Talon X Kendo
30 November 2021
Talon and Kendo puppies were born November 30, 2021.
This litter is a little bittersweet for me. This litter was born on the 9th anniversary of Guinevere's death. These guys are her great great grandchildren. Somewhere she's smiling down with a blessing for this special litter.
5 beautiful Healthy pups. 1 black male, 1 bi color males, 1 black female and 2 sable females.
This litter is all spoken for.
These pups will go home on January 22nd at 11:00 am eastern time.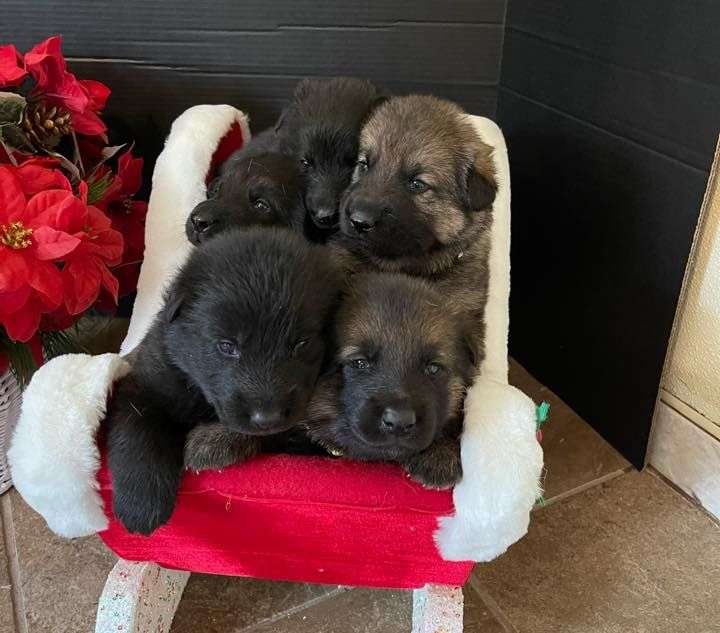 Kendo Vom Wolfsfriede CGC, CA, PSA PDC, PSA1

V

Vucan von Peroh IPO3, FH2, (WUSV, BSP)

SG

Lennox vom Fern-Tal IPO3 FH2

SG

Champ zur Krombach SchH3, FH2, BSP, 3x LGA, LG-FCI

G

Leika vom dunklen Awinger SchH1

V

Moana von Peroh SCHH3, IPO3 (LG-FCI)

G

Zender vom Lusondai WUSV, SCHH3, IWR3, GHP3, IPO3

SG

Erna von der Schwedenfestung SCHH3 (3X BSP), IPO3 (BUNDES-FCI), FH2

SG

Daika vom Wolfsfriede IPO3

V

Black-Jack von der Teufelskehle SCHH3

V

Tyson von der Schiffslache SCHH3, IPO3, (3 X BSP), 2x LGA SIeger, Bundes FCI

G

Wilma vom Ketscher Wald SCHH3

G

Frenzi vom Rurdamm SCHH3 (G-BSP), SG-LGA

SG

Arek von Granit Rose SCHH3

G

Orka vom Erlenbusch SCHH3

Camelot's Dark Knight FO, PA, P1,PDC, PSA1

Elite Tactical K9 Mace

War Van Den Heuvel

Dakota Von Armierung Haus

Chyna Von Haus Cimmerian

V

Iltis von der Wildsau SCHH3 IPO3

SG

Agnes z Gartu ZVV1

Camelot's Shining Victory

Camelot's Lord Brom FO, PA, P1

Camelot's Dark Knight FO, PA, P1,PDC, PSA1

Camelot's Phoenix vom Welcross FO, PA, P1 PD1

Camelot's Lady Guinevere FO, PA

Dax von der Wilden Rauberbande SchH1

Inka vom Palmaleinehof