Current Prim and Groot
7 September 2022
9/26/22
Prim and Groot puppies born Wednesday 9/7/22. 5 males and 5 females. 4 sable males and one bi color male. 4 sable and I bi female. I will get the waitlist order posted to the website later this weekend. All male pups are spoken for but we do have a couple of open female spots. Puppies will go home Sunday Oct 30th at 11:00 am eastern time.
This is a repeat breeding and we were extremely pleased with the puppies from this breeding. Pups were outgoing and social, with great nerve, nice drive with great trainability. The previous litter produced bi color and sable and we expect the same from this litter. Both parents compete in dock diving and excel at both distance and Air retrieve. Prim competed in Rally and scored very well. Groot's primary sport is nosework, he is currently in training for his NW3, which we hope to try this upcoming fall. He also does bite work. He is my most versatile male. He and Prim are both from my foundations dogs on their mothers sides..
We currently have 1 sable male and 1 sable female puppies available in this litter.
Puppy Collars: Girls are dark pink, light pink, yellow, lime, lilac. Boys are red, green, light blue, dark blue, purple
Wait list is in no particular order
B Niehoff F sable
G Demastus M sable
K Clark M sable
J Hughes M bi color
R Duncan F
L Campbell F sable
A Cheshire F sable
M Meeks M sable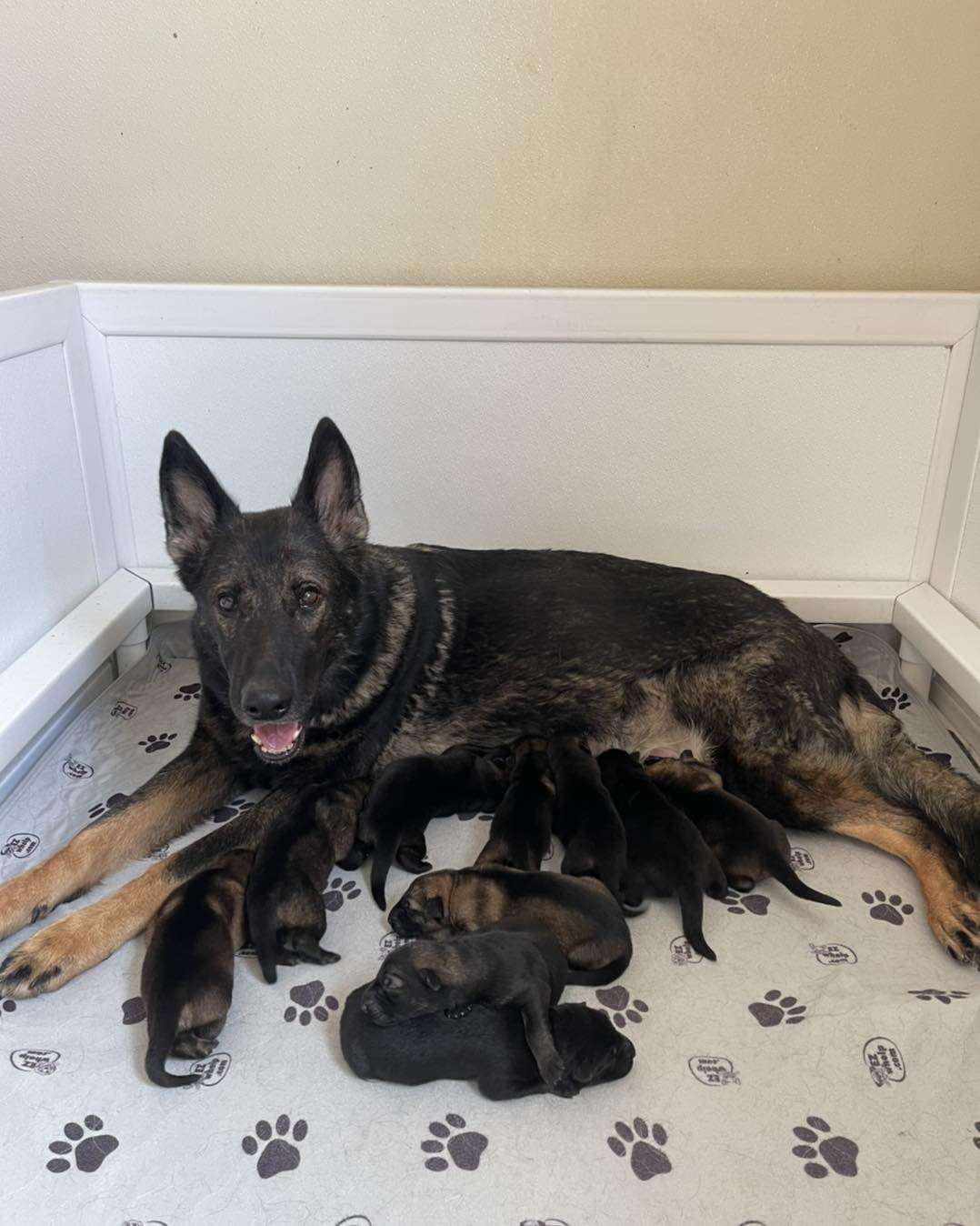 Camelot's Galactic Warrior "Groot" DJ, DSX, AS, DM, PSD-NE, PSD-ND, PSD-NS, PSD- NC, PSD-NB, SDN, PSD-AE, PSD-AD, PSD-AC, PSD-AS, PSD-AB, SDA, NW1, NW2-P

Redrum von den Sportwaffen

Cero Jivo IPO3

V

Laila Belle von den Sportwaffen IPO3 FH BHOT

Camelot's Dark Knight FO, PA, P1,PDC, PSA1

Camelot's Shining Victory

Kendo Vom Wolfsfriede CGC, CA, PSA PDC, PSA1

V

Vucan von Peroh IPO3, FH2, (WUSV, BSP)

SG

Daika vom Wolfsfriede IPO3

Camelot's Blitz

Camelot's Ultimate Rebellion
Prim and Groot 2021 litter
Prim and Groot puppies 2022 1 week old